Informal Discussions
Please join us for informal discussions where we share ideas, experience and work out problems in our own practices together. Teachers, Community Educators, Higher Education Faculty come together with rich, diverse knowledge and experience. Come join the discussions!
4-6 pm,
Faculty of Education
Room 1018
February
Community Voices: Designing & refining research projects
Thursday, February 8, 2018
Family Literacy
Wednesday, February 21, 2018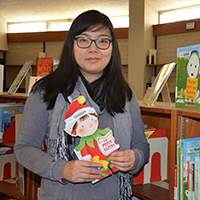 Yijuan Ge
March
Talking about coding
Thursday, March 8, 2018
Becoming a reflective practitioner
Wednesday, March 21, 2018
Dr. Sandra DeLuca
April
Exploring non-traditional learning environments
Thursday, April 12, 2018
What's new in math?
Wednesday, April 18, 2018
May
Inclusive Education
Thursday, May 10, 2018
Engaging new Canadians through STEM
Wednesday, May 16, 2018
June
Transnational education: Assessing global competencies
Thursday, June 14, 2018
Wellness in an age of technology
Wednesday, June 20, 2018
Rodd Lucier