Research
Centre members are actively involved in curriculum research projects locally, nationally and internationally. Take a look at the projects we are engaged with as we work to make a difference together in our world, and in how curriculum is understood and applied. 
Projects
Journals
Journal of Curriculum Studies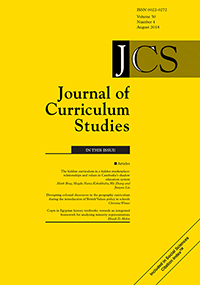 Journal of Curriculum Studies publishes conceptually rich contributions to all areas of curriculum studies, including those derived from empirical, philosophical, sociological, or policy-related investigations.
The journal welcomes innovative papers that analyse the ways in which the social and institutional conditions of education and schooling contribute to shaping curriculum, including political, social and cultural studies; education policy; school reform and leadership; teaching; teacher education; curriculum development; and assessment and accountability.
Journal of Curriculum Studies does not subscribe to any particular methodology or theory. As the prime international source for curriculum research, the journal publishes papers accessible to all the national, cultural, and discipline-defined communities that form the readership.
General Editors:
Stefan Hopman
University of Vienna, Austria
Zongyi Deng
Nanyang Technological University, Singapore
Editor: (local)
Rachel Heydon
Western University, Canada
Journal of Childhood Studies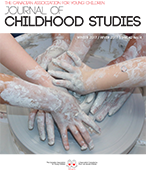 Journal of Childhood Studies is a peer reviewed, open access digital journal that aims to provide researchers and practitioners with a transdisciplinary space to cultivate experimental, creative, and alternative approaches to, and conceptualizations of, childhood.
General Editors:
Dr. Veronica Pacini-Ketchabaw
Western University, Canada.
Dr. Randa Khattar
Western Univeristy, Canada
Editorial Advisory Board: (local)
Dr. Rachel Heydon
Western University, Canada
The Curriculum Journal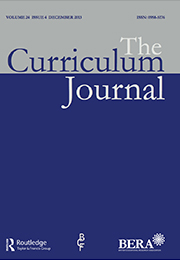 The Curriculum Journal is an international peer-reviewed journal that publishes original contributions to the study of curriculum, pedagogy and assessment. Papers reporting empirical studies and theoretical analyses from a range of perspectives, including philosophical and historical, are welcome. The journal particularly welcomes papers that include attention to the implications for policy and practice that arise from theoretical and empirical work.
The journal makes a specialist contribution to knowledge related to the educational phases that impact on children from the early years to adulthood.
Editors:
Dr Stavroula Philippou
University of Cyprus
Professor Mark Priestley
University of Stirling, Scotland
Editor: (local)
Professor Kathy Hibbert
Western University, Canada