Speakers on the Road
Graduate students are working intensively in an area of research that seeks to contribute new knowledge to the field. They are developing expertise in areas that are relevant to schools and communities. Here we have included a selection of the work that they are doing. If you or your organization would like to book one of these talks, or propose one that you do not see listed here, contact us: curriculum.centre@uwo.ca
Mobilizing semiotics and multimodal practices in elementary classroom curricula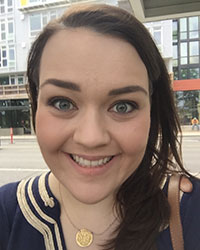 Presenter
Emma Cooper, PhD Candidate
This presentation focuses on data collected from two previous studies which explored elementary teachers who identify with implementing multimodal and semiotic (meaning making) based practices in classroom curricula. These educators provided suggestions for how other elementary teachers may implement similar practices in their classrooms in order to provide students with expanded communication options (Heydon, 2013), and it is these suggestions which would be the focus of the presentation. The presentation would focus on outlining specific semiotic resources, modes, and discussing assessment suggested by educators which have helped them to facilitate and create a classroom curricula informed by semiotic theory and practices (e.g., interdisciplinary pedagogies, seating arrangements to encourage dialogue). These responses would also be generally compared to resources outlined in various Ontario programmatic curricula (e.g., Language Arts, OME, 2006) and multimodal literature reviewed.
What's Safe for a Boy?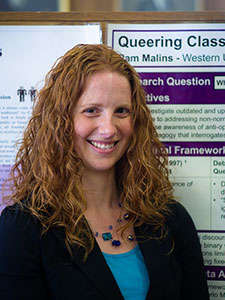 Presenter
Pam Malins, PhD Candidate
What is acceptable for boys to play with, read, wear, or express? The amount that boys must negotiate from an early age seems exhausting! Balancing the fine line of masculinity and femininity becomes a full-time job, dodging name-calling like sissy, fag, and wimp. Kimmel and Mahler (2003) suggest that homophobia is not just the fear of homosexuality, but the fear of being perceived or named gay. Is it any wonder that these authors, who examined trends across random school shootings in the US, found that most of the boys were bullied for not being masculine enough? This workshop investigates 'boy culture' and the role of educators in this discourse.
Gender, Sexuality, Curriculum, and the Young Child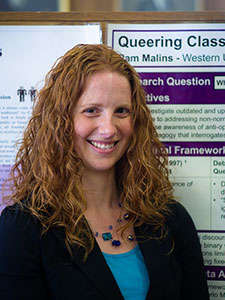 Presenter
Pam Malins, PhD Candidate
This workshop allows educators to become familiar with the Ontario elementary language curriculum which promotes inclusivity, anti-discriminatory education, and critical literacy, and examines how educators can use this document as a platform to disrupt heteronormative environments and gender stereotypes. Through the use of children's picture books, we explore ways to engage in equitable classroom discussions that meet the needs of a diverse classroom community. Furthermore, this workshop encourages educators to be reflexive about their own practice and pedagogy in light of these issues.
What is the 'lived' curriculum?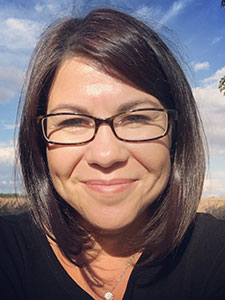 Presenter
Joelle Nagle, PhD Candidate
What is the lived curriculum (Aoki, 1993) of educators participating in an online graduate program in multiliteracies education and how does this lived curriculum shape their perceptions, of literacy pedagogy?
How do participants through their experiences within the program come to know and understand multiliteracies pedagogy? What are the implications for teacher professional learning to promote multiliteracies pedagogies within education? In this presentation, I promote the need for professional learning opportunities that expand teachers' knowledge and practical uses for implementing multiliteracies pedagogies into their practice.